Bobby's Christmas Story
Bobby's Letter
Page 1
Copyright 1997 by Dawn Rosell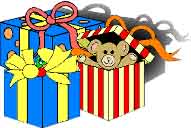 Gifts are the one thing Bobby had his mind set on getting a lot of this Christmas. Even though he knew his parents had three other children, he was going to get more than his share of presents. You see Bobby was the youngest, smartest and best of all his siblings; so Bobby had been telling Santa in his letter to the jolly man. Bobby had begun his letter early in October to be sure Santa would receive his list before anyone else had even thought of Christmas. He made sure to tell Santa what a good boy he was this year and gave a very long list of gifts he wished to have under his tree.
Let's see there was; a bike, a new baseball mitt, a computer, a hockey stick, some comic books, and the list went on and on to fill up two pages of his letter. He also told Santa that he understood if he could not receive them all, but would prefer that Santa chose at least most from the first page.
Bobby was very confident about his letter and so told his brothers and sister that they would be sorry they had not been as smart or good as he this year.
Next...